TODAY
is release day at the
Digiments
blog...Make sure to hop on over there to check out the fabulous samples from the DT gals!
Saturday and Sunday only...
Doorbuster Sale on entire July release!!!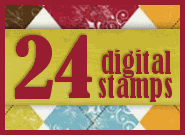 Click on thumbnail to link to Digiments Blog
This first card is another sample from the Inspirations series - Lord's Prayer. This card is based on the Card Positioning Systems sketch challenge from July 5th: CPS123. While browsing the net for biblical images, I found this wonderful site that houses biblical/Christian coloring pages (you can find it
here
). I picked this praying angel because it fit the Lord's Prayer perfectly. I printed off the digiment on patterned paper backed with cardstock for some stability and popped up with Scotch mounting tape. Then I colored in the praying angel, cut him/her out, and popped up on a white circle so it wouldn't get lost in the patterned paper I used. I used some glitter glue on the wings and the image is colored with prismacolor pencils blended with baby oil.
Image created by Elizabeth O. Dulemba
Digiments: Kids Bible Songs Series
This second card is another sample I made for the Kids Bible Songs series. I couldn't get this song out of my head. This card is based on the Mojo Monday sketch challenge from July 6th:
MOJO94
. I missed the contest since I couldn't post this card until now. While browsing through the net yet again, I found this great image from
Elizabeth O. Dulemba
. She writes childrens' books and is gracious enough to offer images to use for cardmaking and scrapbooking. You can find her blog
here
and images
here
. If you sign-up for her newsletter, she will send you an update when she's added a new image to her library of freebies called
Coloring Page Tuesdays
. Again, the image fits the song verse so perfectly. I had such a hard time finding an appropriate image and was ecstatic when I found this on Elizabeth's blog. I also topped off the card with another ribbon flower. The flowers are so much to make! Again, I used an old music sheet for the background along with other vintage-y elements.
NOTE TO ADD:
Before downloading images/coloring pages on the net, make sure to respect the artist's copyrights on their images - there are many that are copyright free. A simple email to the artist with your intentions is appreciated. Since Elizabeth's images have gained popularity among crafters, she has outlined the requirements when posting artwork using her images that you can find
here
.