I am so excited to feature a new series of digiments for the month of July called Kids Bible Songs. Ever since Papercraft magazines featured an article called The Silhouette Movement in the June/July 2008 issue, I've always wanted to create a silhouette card. And you can't use a silhouette image without going vintage and vintage is definitely my style. I have been working with a lot of bright colors lately (which out of the norm for me since I love working with earth tone colors) so I chose to notch it down a bit and use some more muted colors for this card with a pop of red. I found this great site,
Karen's Whimsy
, that houses many great clipart as well as coloring pages and of course, several silhouette images. I chose this
Pied Piper of Hamlin silhouette image
because it fits the digiment perfectly with kids singing in the background. I used the
Arabesque template
from
Mel Stampz
and printed the image on vanilla cardstock, heat set, and inked it up with Tim Holtz distressing ink Antique Linen. Then I printed the Arabesque template and digiment on vellum. The embellie on the side is actually an actual old music sheet I cut down and folded in accordian style and topped it off with staples. To finish off the card, I created a ribbon flower by threading the top edge and pulling it until the ribbon looked like a flower and sewed it together at the ends. I covered up the hole in the middle with a button. This was the first time I've tried using a ribbon flower on one of my cards. It was fun to make and easy too! This card is based on the
Sheetload of Cards July sketch
.
Make sure to stop by the other DT's blogs to check out their fab creations until the release. I'll be posting more samples so stay tuned!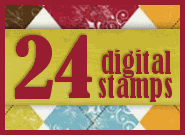 Click on the thumbnail to link to the Digiments blog
JULY 18
is release day... Michelle will be offering a Door Buster Sale of the new digiments for only
$10 for 24 Digiments
(each digiment is normally $1 each), Saturday and Sunday only - that's a steal of a deal! Also, the contest using the summer digiments you can download on the blog ends on July 18 (download them
here
). Two people will be chosen to win the entire July release.
Digital Stamps: Digiments (Kids Bible Songs), Mel Stampz (Arabesque), Karen's Whimsy (Silhouette)
Patterned Paper: Memory Block (Inspirations)
Ink: Tim Holtz Distress Ink (Antique Linen)
Cardstock: Unkown (Vanilla, Black), Georgia Pacific (White)
Die Cut: Spellbinders (Classic Circles)
Ribbon: Red Wide Grossgrain Ribbon
Other: Staples, Music Sheet, Vintage Buttons